Do you use Google Sheets to manage aspects of your Shopify store like inventory or marketing?
If so, you are probably intimately aware of the painful process of exporting and importing Shopify reports on a daily basis. That's why we built Synchronize.
With Synchronize, you can connect your Shopify account and start using your e-commerce data directly in Google Sheets. See all of our custom Shopify functions here.
Want to use the latest inventory count for your product MYSKU123? Simple:
=SHOPIFY_INVENTORY(mysku123)
Forecasting inventory, and need to know how many units sold over the past month?
=SHOPIFY_SOLDUNITS(mysku123,"t30")
Or if you prefer to work with raw data, you can pull in entire reports using functions like:
=SHOPIFY_REPORT(inventory,"yesterday")
Your Shopify custom functions refresh daily, so you're always working with the latest data.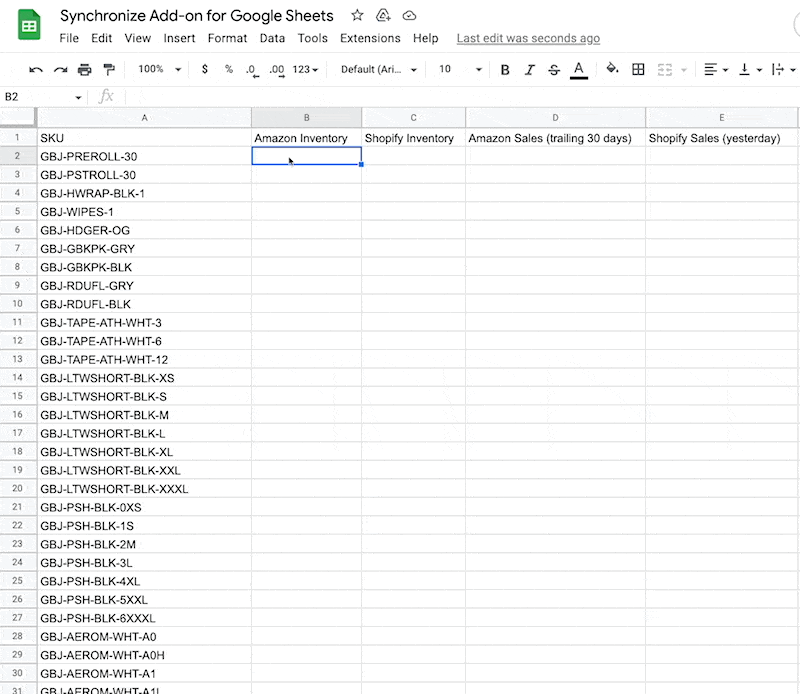 Create Google Sheets dashboards that integrate with Shopify and your other e-commerce data sources (like Amazon, Facebook Ads, or Klaviyo) to effectively control:
Sales Forecasting
Profit and Loss Tracking
anything else you can do in a spreadsheet!
Ditch the manual CSV work and start syncing your Shopify data to Google Sheets today.